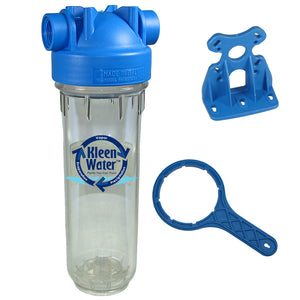 Whole House or Under Sink 2.5 x 10 Inch Housing, Bracket and Wrench
Brand: KleenWater
Item Number: KW2510HT(1)-Bracket(1)-Wrench(1)
Regular price $ 38.50 On Sale

KleenWater KW2510HT Water Filter System - Whole House or Under Sink 2.5 x 10 Inch Housing, Bracket and Wrench

KleenWater's best rated heavy duty 2.5 inch x 10 inch filter made in Italy

Transparent housing provides easy visibility of cartridge condition

Includes filter wrench; mounting bracket and screws

Good for both whole house and point of use applications

3/4 inch inlet / outlet with female NPT

Our Kleenwater KW2510HT 2.5 X 10 inch transparent water filter housing is manufactured in Italy from the highest quality and safest materials. The transparent sump is constructed of polyethylene which is considered very safe by specialists knowledgeable about the effects of plastic in the food and beverage industry. Polyethylene is also easily recyclable. It is manufactured with a proprietary procedure saving up to 60% of energy in injection molding compared with standard plastics. This filter is very rugged and boasts a 120 psi maximum working pressure. A built-in pressure relief vent and a spanner wrench are included for easy periodic cartridge change out. Included is a mounting bracket with screws. The bracket will help ensure a sturdy installation. The filter head is equipped with 3/4" NPT inlet/outlet threads.

The component materials are tested and certified by the Water Quality Association (WQA) against NSF / ANSI Standards 42 and 61 for material safety and integrity. The maximum temperature is 120 degrees Fahrenheit.

No cartridges included. This filter requires standard water filters with 2.5 inch width x 9.75 inch length. This is the common industry standard dimension. The system can be employed for both "point of entry" and "point of use" (under sink) applications.

KleenWater is a trademark of Pavel Water Filtration.